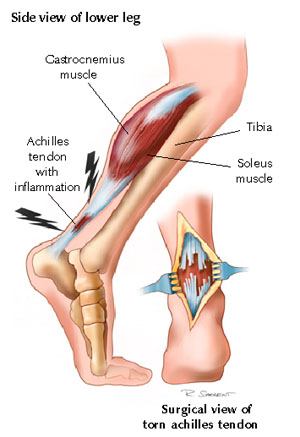 Bad news. It hurts to walk. I have apparently strained and/or torn my achilles tendon... I think. However this is my own personal diagnosis and I have yet to visit the wise old doctor. After a bout of intense google searching, I have learned a bit about running injuries, Achilles tendonitis being one of the most common. Apparently, if I'm not careful this could become a major reoccurring problem. Sadly, I have to work tonight, which means I will be putting hours of strain on my ankles and their linking tendons. So let's hope that my next post won't consist of groans and sobs of how badly I am in pain and of how sad I am to cancel my first 5k. It's only three days away, you know?
They say that you can hurt your Achilles tendon by doing speed and/or hill work, by not stretching appropriately or by not warming up and cooling down properly. Unfortunately I'm guilty of all charges. So I've been icing, massaging, stretching and hoping for the best. I am also wearing my black Asics to work, which is something I thought I would never consider since tennis shoes are almost always a fashion disaster, especially when worn with a dress shirt and fancy necklaces. But I must give my ankles as much support as possible.
If anyone has any suggestions or tips on how to heal faster, or even a charming anecdote of similar experiences, then please share.
On a side note, I am 3/4 into Lolita by Vladimir Nabokov, and I have saturated myself in the writer's gradual climb into insanity. I feel like a bit of a weirdo for getting so enthralled with a book with such repulsive subject matter, but the thing is so well written and enticing that I can't help it. Consequently, it makes me feel a bit insane myself. So please forgive the abrupt sentences and any other change you see in my writing voice today. I am a Literature nerd at heart, you know.
Work Out:
Run: None :(
Resting: TONS
Thoughts/Emotions/Concerns: I do hope that I get better quickly!